A .30-30 lever-action rifle is a classic weapon in America, and its hunting and military capabilities have increased its popularity over the last few generations. This rifle is not that large in size, but you can expect its cartridges to pack the right amount of punch to handle medium or large games, depending on their efficient ranges.
To maximize the performance of this rifle, you should pair it with the best scope for a .30-30 rifle. This combination will greatly improve the accuracy of the rifle. To guide you in selecting the best .30-30 rifle scope, look at this review of the top eight scopes to buy. First, take a look at the top-rated .30-30 scopes. Then learn how to choose the right one for you in our buying guide below.
The 8 Best .30-30 Rifle Scopes in 2022
Vortex Optics Crossfire II 2-7×32 SFP Rifle Scope
The Vortex Optics Crossfire II 2-7×32 SFP makes use of a dead-hold BDC reticle, which is ideal for shooting or hunting at different ranges where there are issues estimating holdover. This rifle scope also has a forgiving eye box and generous eye relief.
With such features, you can acquire your target and obtain a sight picture quickly. You also have the chance to enjoy easy and quick reticle focusing with the aid of its fast-focus eyepiece. The customized dot design integrated into the crosshair's vertex works well in estimating corrections for the holdover and windage. This design allows you to shoot in variable wind conditions. With the second focal plane used by this scope's reticle, the reticle  remains consistent in size, regardless of the level of magnification you decide to use.
It has incredible magnification settings, making it perfect for close ranges where your rifle's power excels in bringing down your target, particularly with meaty animals. It also has a multi-coated lens with an anti-reflective material. This provides a bright and colorful sight picture without ruining your shots with light reflection. On the downside, it does not work well when used in low-lit environments.
Pros
Allows hunting or shooting at variable ranges, especially when holdover estimation is a problem
Generous eye relief
Provides incredible magnification settings
Boasts of a multi-coated lens equipped with an anti-reflective material
Promotes quick target acquisition
Cons
Not that suitable for low-lit environments
Simmons 8-Point 3-9x50mm Rifle Scope
The Simmons 8-Point 3-9x50mm Rifle Scope has one of the best optic systems available. With this optic system, this scope delivers clear and bright sight pictures, and it allows you to have a clear view of your shooting target without any hassle. Another nice attribute of this rifle scope is its full waterproofing and sealing, making it as well-structured and strong as possible.
The 3-9x magnification of this Marlin .30-30 scope promotes ease in adjustability, especially in the level of windage and elevation. Since this scope contains high-quality materials, its sturdiness shines through with its waterproof and fog-proof properties.
In fact, the construction offers complete protection from heavy impact and recoil, making it as long-lasting as possible. It has a sturdy and strong tube, which withstands heavy recoils of Marlin .30-30 lever action rifles, or any other shotgun and rimfire. Additionally, this scope provides a wide field of view. Its QTA eyepiece system helps in shooting targets with ease. The 3.75-inch eye relief is also generous.
Pros
Highly improved light transmission, thanks to its fully coated optical system
Clear and bright sight pictures guaranteed
Well structured and stable with its full waterproofing and sealing
Wide field of view
Good eye relief
BARSKA 3-9×40 Huntmaster 30/30 Riflescope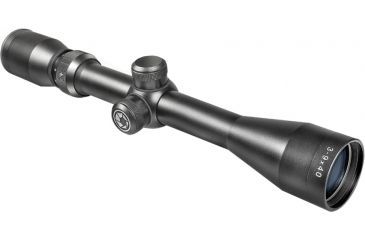 It offers hunters and target shooters in-field reliability and firing accuracy. It also works efficiently for plinking. The nice silver finish on this rifle scope is also beneficial, as it helps in making it stand out. This riflescope also allows 3x to 9x zoom adjustment, giving you the ability to target from close to middle range.
This scope is lightweight, which makes it possible for anyone to use without exerting excessive effort. The adjustment knobs integrated into the rifle scope allow proper adjustment for the windage and elevation, depending on your preferred setting.
In addition, it features a fully coated optical system. It is shockproof, fog-proof, and waterproof, proving how well-structured it is. This enhances its ability to fight harsh elements and last for a long time, regardless of the environment. This product comes with most of the features that make it function at its best, including the lens cloth, scope caps, and mounting rings.
Pros
Affordable yet functional
Works for target shooting, hunting, and plinking
Features an attractive silver finish
Allows adjustments for windage and elevation
Well structured with shockproof, fog-proof, and waterproof features
Cons
Does not include the required scope rings for attachment
Bushnell TRS-25 Red Dot Scope
The Bushnell TRS-25 Red Dot Scope has an illuminated dot that serves as the point of aim. One advantage of a red dot sight is its ability to let you use it with your eyes open, guaranteeing an unlimited field of view and quick target acquisition.
Appearing in a matte black color, this Henry .30-30, Remington .30-30, Savage .30-30, and Winchester .30-30 scope has a 3 MOA dot reticle. This reticle has 11 brightness settings, letting you decide which setting to use. Its compatibility with various rifles, muzzleloaders, shotguns, and pistols is also another great feature of this rifle scope.
You can easily mount this scope on the majority of Picatinny rails. The waterproof and shockproof construction of this red dot sight indicates how stable and rugged it is. Since it is waterproof, the O-ring-sealed optic system will remain dry inside, even after completely immersing it in water. The fact that it is shockproof also means that it can handle bangs, drops, and bumps, as well as rough environments.
Pros
Provides limitless field of view and rapid target acquisition
Nice matte black color
Offers up to 11 brightness settings
Waterproof and shockproof, showcasing its ruggedness and durability
Easy to mount
Bushnell Banner 3-9x40mm Dusk & Dawn Multi-X Reticle Rifle Scope
Regardless of whether it is dawn or dusk, the Bushnell Banner 3-9x40mm Dusk & Dawn Multi-X Reticle Rifle Scope showcases clarity and brightness in each sight picture. It has a highly advanced multi-coating system, which works in amplifying the transmission of light.
In addition, the quality and stable construction lasts for quite a long time. The single-piece tube uses quality materials, making it fully shockproof. The fact that this tube is nitrogen-purged is also a big advantage, as it offers protection to the glass by providing a fog-proof and waterproof seal.
This rifle scope also resists heavy recoil, provided that you mount it correctly. It has a multi-coated lens, commonly found in high-performing and expensive riflescopes. The lens provides a crystal-clear vision, which is essential for shooting or hunting in low light. This scope is versatile, which makes it an all-around scope for big games. In fact, is compatible with any shotgun, muzzleloader, or rifle.
Pros
Works well for all hunting and shooting rifles
Produces incredibly bright sight pictures
Amplified light transmission capability
High-quality and stable construction
Features a multi-coated lens
Cons
Slightly thicker crosshairs than usual
Nikon ProStaff 3-9×40 Black Matte Rifle Scope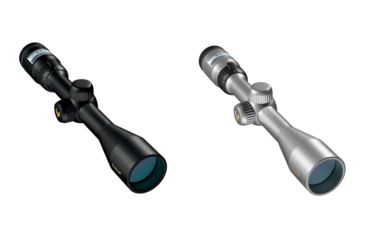 The Nikon ProStaff 3-9×40 Black Matte uses a BDC reticle, which promotes ease in holding at high ranges. This reticle also takes pride in its distinctive see-through ballistic circles, which provide an advantage ideal for long-range shooting. Such a feature also makes it possible for you to get normal sight pictures, in case of short-range shots where the target is the crosshair.
The reticle in this option allows you to zero it in speedily. Also, it gives you the chance to retain the setting, even when there is heavy recoil. In addition, the fully multi-coated optical system in this rifle scope is effective in transmitting a high amount of available light (up to 98%).
The scope also guarantees users versatility. In fact, it is compatible with several rifles, including the Remington .30-30, the Savage .30-30, and the .30-30 Marlin rifle, among many others. The O-ring sealed and nitrogen-filled nature of this rifle scope is the reason behind its stable construction. As a result, it is shockproof, fog-proof, and waterproof.
Pros
Strong and sturdy construction
Works well for long-range shooting
Boasts of a fully multi-coated optical system
Compatible with several types of rifles and guns
Shockproof and fog-proof
Cons
More expensive than other options
Leupold VX-1 2-7x33mm Compact Rifle Scope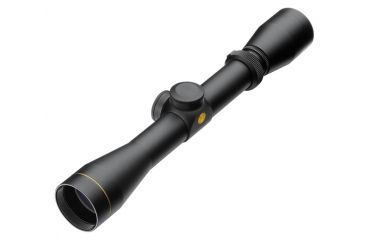 Leupold VX-1 2-7x33mm Rifle Scope Similar Products
opticsplanet.com
Check price
Leupold VX-1 2-7x33mm Riflescope is the best in its class, offering hunters quality, accuracy, affordability, and a lifetime guarantee. All of these qualities are encompassed in these ruggedRiflesc...
The aircraft-grade aluminum alloy material in the BARSKA 3-9×40 Huntmaster 30/30 makes its overall structure light and sturdy. It comes in a 30-millimeter tube, which provides adequate space for all the functional features that make it work. One of these is the wide adjustment range.
One feature that showcases this scopes's high-quality build is its O-ring sealing, which guarantees full waterproof integrity. The materials are all durable, making the scope strong, stable, and long lasting. This scope provides impressive clarity of field of view, regardless of the condition.
It has well-coated optical surfaces, significantly reducing glare and promoting the genuine transmission of color. With this, you will enjoy high-contrast and vivid pictures, despite using it in areas with poor lighting. The standard fast-focus eyepiece of this Leupold riflescope also features a lock ring with a low-profile design. This promotes ease when attaining and maintaining reticle focus.
Pros
Equipped with a versatile zoom, making it adaptable to various distances
Light and sturdy aircraft-grade aluminum alloy construction
Guarantees wide adjustment range
Promotes full waterproof integrity
Showcases impressive clarity of the field of view
Cons
Does not hold zero efficiently
Weaver K4 4X38 Riflescope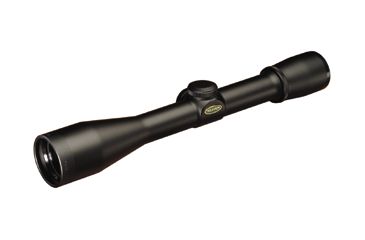 The Leupold VX-1 2-7x33mm Compact Rifle Scope has fixed magnification power, which offers a huge advantage because you no longer have to adjust it. The fixed power allows you to hold zero more effectively. This scope can also hold windage and elevation in a consistent manner.
The 38-millimeter objective lens diameter is one of the strengths of this scope, as it works in gathering light and providing clear and bright sight pictures. It has a solid and durable tube made of aircraft-grade aluminum. This scope features a Dual-X reticle, which helps you aim at your target properly.
In addition, the generous eye relief and large exit pupils attracts users. The multi-coated lens ensures that the image will be of optimum clarity. The clear, crisp, and parallax-free glass lens provides bright and clear pictures, even in low-light environments.
Pros
Fixed magnification
Gathers light more effectively, promoting clear and bright pictures
Aircraft-grade aluminum construction, which is solid and sturdy
Promotes highly precise shots, thanks to the Dual-X reticle
Equipped with parallax-free glass lens
Cons
Not suitable for longer ranges
What Makes a Great .30-30 Rifle Scope?
The first thing that you need to look for is functionality. The scope should have the right amount of magnification. Whether it is fixed or variable depends on your preference. It should have excellent light transmission and a clear sight picture.
Also, the scope should be durable, so you do not need to fret about damaging it when you take it outdoors. The scope should be waterproof, fog-proof, dust-proof, and shockproof. It also needs to be tough enough that a couple of drops or banging around the shrubbery will not cause it to lose its zero.
What Magnification Do You Need?
The .30-30 Winchester has an effective range of around 200 yards, which means you do not need that much in terms of scope power. A scope with a maximum magnification of 7x or 9x will be the best choice. Anything stronger will be out of the .30-30's effective range. At 9x magnification, you can create tight groupings.
The next thing that you need to check is whether you want a fixed-power or a variable magnification. If you are the kind of person who likes to putter around with the settings of the scope and wants to have total control over the accuracy of the shots, then you will want a scope with variable zoom. You can choose variants that have 2x to 7x or 3x to 9x magnification.
That's not to say that getting a scope that has a fixed 7x or 9x zoom is not viable. Actually, it depends on the particular use you have in mind. For instance, if you want to establish a good sight picture as quickly as you can, you will love fixed-zoom scopes.
Once the scope is zeroed in, look outside of the scope to find your target, and then peek into the scope to lock on to it and squeeze the trigger. Variable scopes allow you to choose the power of the magnification, thus tuning in your sight picture for a more optimal shot.
Factors to Consider When Buying a Scope for .30-30 Rifle
When you are shopping for the best .30-30 scopes for the first time, the sheer number of choices can be overwhelming. To give you some insight, here are some of the biggest factors to consider when looking for a good scope:
Objective lens
A bigger or larger objective lens also translates to more light entering the scope. With more light, you will get a brighter and clearer lens picture. However, bigger lenses also weigh a lot more. It is best to get a scope with the right amount of light transmission. A 32-millimeter objective lens can give you the best combination of light transmission and weight.
Magnification
The Winchester .30-30 ammunition has an effective range of around 200 yards. This means that it is far from being a sniper round. In fact, scopes with too much magnification will be useless if you cannot see where the bullet hits the ground.
The best choice for .30-30 rounds are scopes that have 7x or 9x magnification. At a distance of 200 yards, you do not need to overcompensate. Using 7x or 9x scopes will allow you to shoot tight groupings.
Variable or Fixed Magnification
Some people do not like using fixed-power scopes, mainly because they like having full control over their shots. However, they are not aware that they are sacrificing target acquisition speed. Instead, they need to adjust the zoom to focus on their target.
With a fixed-power scope, you can use both of your eyes to find your target and peek into the scope to get a clearer picture. The next step is to squeeze the trigger. If you will be using the rifle for guarding your homestead, or hunting big game animals wherein targeting speed is of the utmost importance, using a fixed-power scope is best.
Weatherproofing
This is of utmost importance if you will be using the scope and rifle for hunting. You will need a scope that you can expose to different weather conditions. Modern scopes are purged using an inert noble gas and sealed at both ends using thick O-rings. The gas prevents water and dust from getting into the tube.
Lens coating
The lens coating used in riflescopes is a film that prevents light from being reflected outward, thus giving away your location to your targets. In addition, the lens coating also increases the amount of light transmitted by the objective lens into the scope.
Lens coating comes in different configurations, but you should look for a lens that is "fully multi-coated." This means that both lenses (the focal and objective) have multiple layers of anti-reflective film. This kind of configuration guarantees at least 90% light transmission.
Eye relief
The eye relief is the maximum distance between your eye and the focal lens. Although the .30-30 ammunition does not have a lot of recoil, getting a scope with at least 6 inches of eye relief is good for when you will be mounting the scope on a scout rifle.
You will need to mount the scope slightly forward because it needs to clear the rifle's action and allow the spent cartridge to eject. Knowing what to look for in a .30-30 scope will make shopping for the best one easier. With these tips, getting the best scope for your .30-30 rifle is possible.
Conclusion
Although .30-30 rifles are spectacular on their own, it does not hurt to buy a nice scope that can maximize its capabilities. By adding just one simple accessory, you can unlock the full potential of your extraordinary rifle.
Choosing the best scope for .30-30 rifle does not need to be too complicated. However, because there are so many scopes to choose from, it unexpectedly became a challenge to pick the right one. Fortunately, you only need to take into consideration some of the most important features of a .30-30 scope.
Post ID: Vv446Zryl
Category ID: 4KjowdA
The responses below are not provided, commissioned, reviewed, approved, or otherwise endorsed by any financial entity or advertiser. It is not the advertiser's responsibility to ensure all posts and/or questions are answered.